The new normal: remote scribing
For businesses everywhere, the pandemic has brought about huge and rapid change. And our business is no exception. When the working world swapped offices and conference centres for remote virtual workspaces, our live scribing service had to follow suit. We knew we were well-placed to adapt, but with businesses making the toughest of calls when it came to budgets, people and plans, we couldn't predict how quickly remote scribing would find its place in this unfamiliar remote working landscape.
Live events and the capture of real-life conversations have always been the mainstay of our work. From the very beginning of Scriberia, a decade ago, we offered a remote and digital scribing service. But live scribing, on site, was always the more popular option.

Pre-pandemic, it wasn't unusual for us to have 10 visualisers live scribing at events around the world on any given day of the week. So, it's no exaggeration to say that lockdown and, in particular, the sudden stop on face-to-face, real world get-togethers, has profoundly reshaped our business in the last few months, and taught us a great deal about how clients, like Salesforce and AXA PPP, are adapting too.

As the world adjusted to working remotely, it became clear that many day-to-day aspects of the working world would need a rethink. In the events industry, where we have so many long-standing friends and clients, Covid dealt an immediate blow.

A trickle of cancellations in early March quickly became a flood, as organisers saw that a lockdown would be in place before long-planned live events could be successfully transformed into equivalent virtual experiences.

But, the pause was brief. As soon as video meetings took over everyone's calendars, "Zoom fatigue" began to set in and the need to facilitate meaningful and engaging conversations in the virtual world - and make them distinguishable from the last - quickly emerged as a priority for our business, and our clients'.

AXA PPP Healthcare responded by hosting a 4-part Q&A series with a panel of health and wellbeing experts, to help the public navigate "the new normal". Their brief to us was simple: to distil their valuable content into a set of engaging and widely shareable digital sketchnotes, which clarified their key messages, and helped drive audiences to upcoming sessions.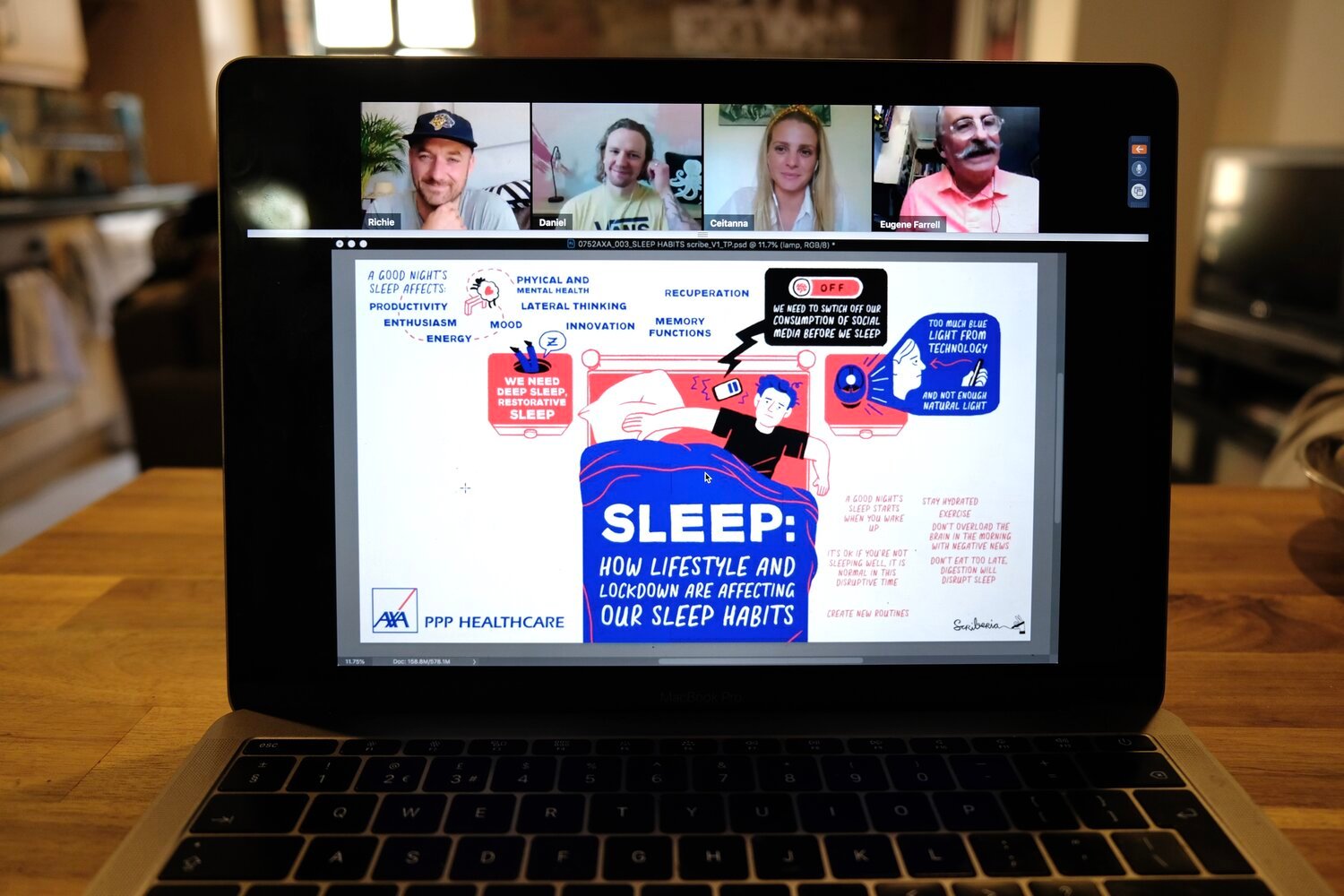 Mid-session during AXA PPP Healthcare's Q&A on sleep habits during lockdown.
For internal meetings too, digital scribing has also been proving its worth to our clients. Our visualisers have pulled up a chair at many virtual meetingroom tables in recent weeks, including at Emotive, an award winning global healthcare communications agency.
They've used scribing to align their remote teams by creating visual roundups of key points and shared aims, as managing director, Lizzie Styles explains: "Working in a creative agency we are highly visual people, so creating a mural of our discussions was a great way to engage us. Having a visual output from our meeting really brought us together as a team, whilst providing that creative inspiration to keep us on track for the future." And how fitting to have used digital scribing to document their session on cultivating a collaborative spirit! Here's our visual summary.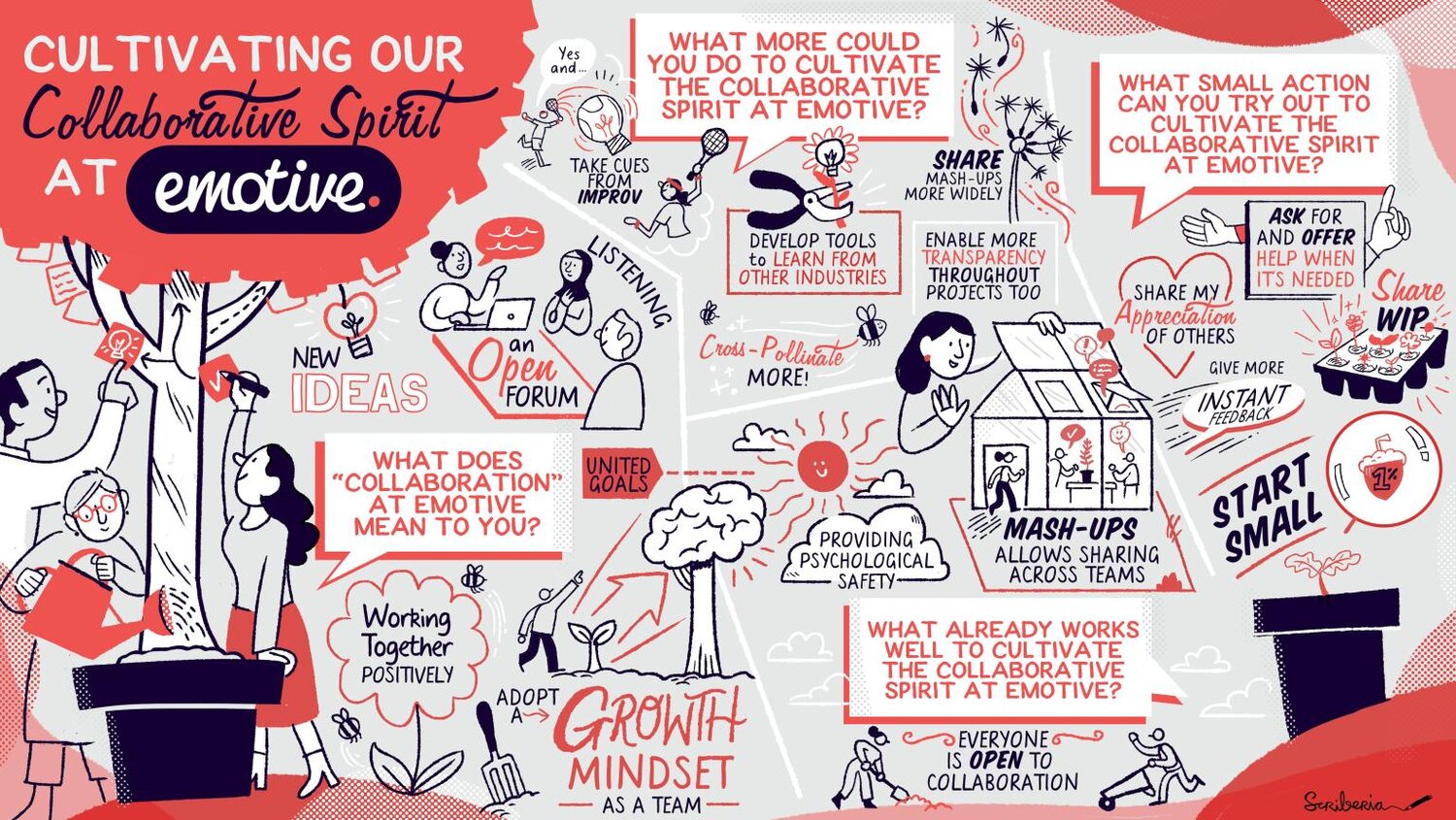 Our remote digital scribe of Emotive's session on cultivating their collaborative spirit.
With a few early successes in the bag, it would be easy to overlook the practical and technical challenges that the "new normal" presented us with, as Emily Spicer, Scriberia's senior producer of live events, explains:
"In the pre-pandemic world, our visualisers were used to being on-site for a whole day, soaking up atmosphere and the knowledge from presentations to help them weave a visual summary over the course of several hours.
"But, we quickly noticed that, in lockdown, our new enquiries tended towards 1-hour webinars, packed full of heavy-hitting, value-driven content.
"Capturing and distilling this content with such a tight turnaround is a massive challenge, and it's here that, I feel, our expertise have set us apart. Our team are so adept at working quickly, under pressure and with little prior knowledge of the content. We have always prided ourselves on it, but this is extreme and it's testament to their extraordinary skill and unflappability that they've risen so well to the challenge and, without doubt, produced some of their best work."

And time isn't the only pressure: There are the additional technicalities of digital scribing, which is a whole lot more complex than putting pen to paper in the real world. Our visualisers have to consider how they will share their work in progress - in addition to sharing their screens, they might need to rig one or more cameras to give the best view of their desk while they work, and ensure the best live experience for their virtual audience.
We quickly noticed that, in lockdown, our new enquiries tended towards 1-hour webinars, packed full of heavy-hitting, value-driven content.

Emily Spicer, Senior Producer, Scriberia
But, just as we are learning and adapting to these virtual events, our clients are, too. As the weeks of lockdown life have gone on, we've noticed a rise in the use of pre-recorded event and meeting content, which we can summarise ahead of time for use as a pre-event teaser, or a post-event round-up.

"This kind of ingenuity really pushes the ROI from working with us for clients," says Emily. "It takes the 'wow' factor of live scribing, and helps to create a strong visual identity for the event, which is especially valuable when you don't have a real-world event space.
"It's been fantastic to see how innovative our clients have been when working within these restrictions. We've seen whole company conferences moved online, with multiple streams from various time-zones feeding into one seamless, virtual event.
"Across the events industry there is a strong sense that nothing beats face-to-face. But, virtual events are set to stay, even when lockdown eases, and I think our work has proven itself even more valuable in these instances, in helping people feel heard, and bringing key insights and messages to the fore."
Working with Scriberia was a seamless process. They integrated into the event with no disruption and created an incredible infographic that summarised our content and made it really easy to share with attendees and across our social networks. We would highly recommend Scriberia as a virtual event partner.

Rachna Booth, Salesforce
Our work with Salesforce has allowed us to do just this: with our team digitally scribing meetings, events, and round table discussions. In May we remote scribed their roundtable discussion on the path to recovery for travel, creating a visual roadmap for how the sector can return to operation.
Enterprise Account Executive for Salesforce, Rachna Booth explained: "We would highly recommend Scriberia as a virtual event partner. Scriberia integrated into the event with no disruption and created incredible infographics that summarised our content and made it really easy to share with attendees and across our social networks.
"Working with Scriberia this way definitely increased event engagement, and it's given us a meaningful way to follow up with attendees, as well as those that missed the session. The infographics have been great for generating further conversations and meetings, helping us to qualify our pipeline, strengthen our relationships and ultimately boost our revenue."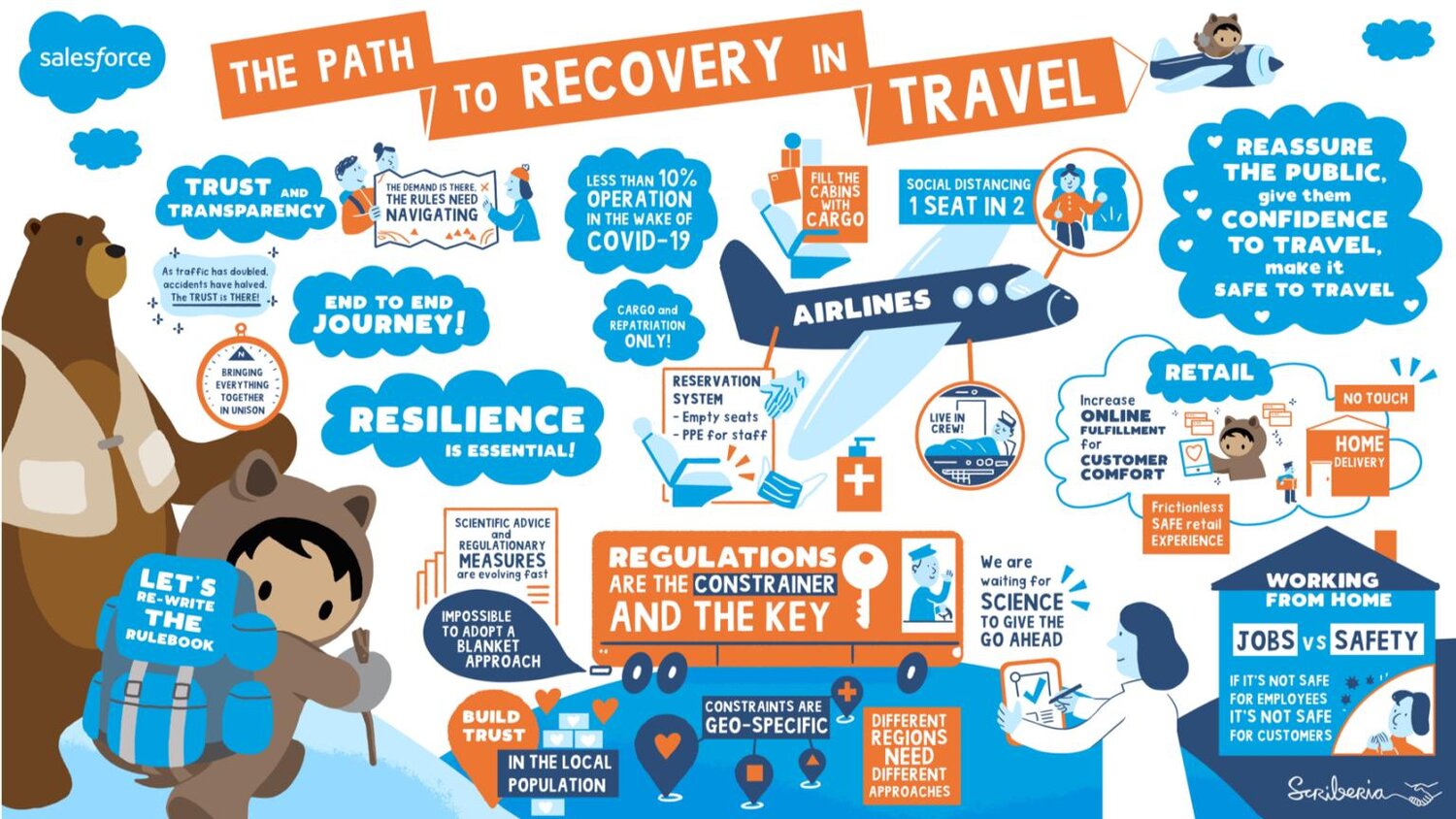 The Path to Recovery for Travel, Salesforce.
The reverberations of remote working, for good and bad, will be felt across all industries for a long time to come - no doubt. But at Scriberia we always say that creativity flourishes within constraints. And certainly, from our position as observers and recorders of the conversations that are driving innovative companies forward at this difficult time, we're encouraged to see clear evidence of that.
Watch our video to learn more about remote scribing:
---
Scriberia Academy is now online. We offer a monthly Using Ink to Think workshop, and a six-week diploma course in visual thinking. Click below to find out more, and book your place.